Team Up Speak Up to Fight Concussions with PT Solutions - how Athletic Trainers can help prevent the worst outcomes of concussions in athletes
By Zachary Walston, PT, DPT 
PT Solutions National Director of Quality and Research & Orthopedic Residency Program Coordinator 
Image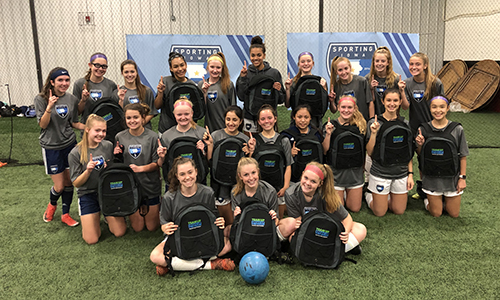 "Should I keep playing or take myself out of the game?"
This is the question a player may find themselves asking in the middle of the game. It is asked while their head feels as if it is actively splitting, their vision is blurred, and they hear a faint ringing sound. Seems like the answer should be straight forward, but the player has teammates, coaches, and fans counting on them. Suck it up and keep playing, right? Everyone gets their bell rung a couple of times.
What would you do in this situation? What do you think most kids do? Do they even question whether they should continue playing?
Concussions remain highly prevalent and a concern in many sports, not just football. While many safety precautions have been implemented – such as limiting headers in soccer and head-to-head contact in football – these don't address one of the largest issues: identifying concussions.
Research has shown concussions are vastly underreported. Reasons include not thinking it symptoms were serious, not wanting to lose playing time, not wanting to let teammates or coaches down, and worrying those same coaches and teammates would think the players is weak.
Athletic trainers are a key source of information for athletes. Unfortunately, that education doesn't always lead to changes in behavior. One research study compared high school athletes with and without athletic trainers at their school. While the athletes with access to a trainer were more knowledgeable about concussions, they were no more likely to report their concussion to an authoritative figure.
We have to do more than educate athletes about concussions. This is where Team Up Speak Up takes center stage.
The goal of Team Up Speak Up is to improve concussion reporting to reduce their negative impact on athletes. With the Team Up Speak Up approach, team leaders provide a speech to fellow athletes about the importance of reporting a concussion. This speech can come from a team captain, a coach, an athletic trainer, or all three. Here is an example of the speech:
"We're a team, and teammates look out for each other. A teammate with a concussion needs your help. I expect you to speak up to a coach or athletic trainer if you think a teammate has a concussion."
This approach only works if the whole team, especially the authority figures, are on board. If a players advocates for speaking up but the coach writes off concussions as not serious and a part of the game, players will remain silent. Conversely, if players know the coach is on board, they are more likely to speak up.
This is where athletic trainers can have a large impact. Athletic trainers are part of the team and sometimes the best person to make the call to remove a player. They are more removed from the game than the players and coaches and can make a more objective decision. That's not to say it is easy for athletic trainers to intervene.
 
Megan Burke is an athletic trainer for PT Solutions, and she understands the challenges athletic trainers face when trying to shift the culture about concussions.
Megan started at River Ridge High School in New Port Richey, Florida four years ago. The culture and mindset at River Ridge was similar to many schools across the county – concussions were part of the game. Players and coaches called it 'getting your bell rung' or 'seeing stars.'
"Concussions just weren't discussed when I started," said Burke. "Players were trained to keep symptoms quiet."
When an athletic trainer starts at a new school, they face the challenge of having to establish trust. The title and training aren't enough. This increases the challenge of creating a culture shift around concussion. So, how should athletic trainers introduce concussion education and advocate for Team Up Speak Up?
"Lay out the expectations as soon as possible," said Burke. "Don't be afraid to go against the grain. You need to advocate for what's right and what is best for the athletes."
Megan is passionate about the Team Up Speak Up initiatives and playing a role in treating and minimizing the impact of concussions. While she faced questions from the coaching staff initially – they didn't have full trust in her clinical decision making from the start – her support from athletes and parents never wavered.
Athletic trainers need to lean on that support. As the old saying goes, people don't care how much you know until they know how much you care. Team Up Speak Up is about protecting players.
Megan's first junior varsity athletes are now her seniors and leaders of the varsity team. How much of an impact has she made through Team Up Speak Up? In the first game this season, an athlete reported a teammate's symptoms, making the first reported concussion of the year a player referral. She now has full trust and confidence from all members of the team.
To maximize the effectiveness, all players have to be on board and trust one another. In the heat of competition, a player may waver and elect to stay in the game. If a teammate suspects something is wrong, they need to speak up. If an athletic trainer or coaches senses an issue or spots symptoms of a concussion, they need to pull the player without question.
Team Up Speak Up works. Studies show players who remove themselves from games and practices immediately after a concussion miss three fewer days of competition on average. The chances of significant time missed, and serious injury diminish as well.
We are seeing Team Up Speak Up influence more athletes as its spreads. Team Up Speak Up was launched in 2016 and has been adopted by large sports governing bodies such as USA Football, USA Hockey, USA Rugby, USA Lacrosse, The Ivy League, and The National Federation of State High School Associations (NFHS). More than 1,500 teams and organizations have pledged to adopt Team Up Speak Up's message, accounting for more the 6.25 million athletes in the US and Canada. While this is great progress, there are many more athletes who need the support of athletic trainers.
To help spread the message, pledge to deliver the speech by filling out the form on TeamUpSpeakUp.org, then give the speech to your team, and post a video of that team hearing that speech on social media with the hashtag #TeamUpSpeakUp.
You can learn more about Team Up Speak Up and the impact athletic trainers can have by watching the
 following videos: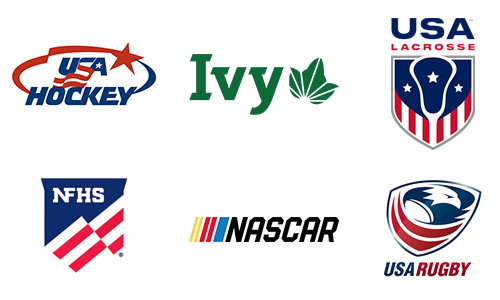 Team Up Speak Up partners and supporters include USA Hockey, USA Lacrosse, USA Rugby, NASCAR, the National Federation of High School Associations (NFHS), and more. View the full list of Team Up Speak Up Supporters.
Become A Supporter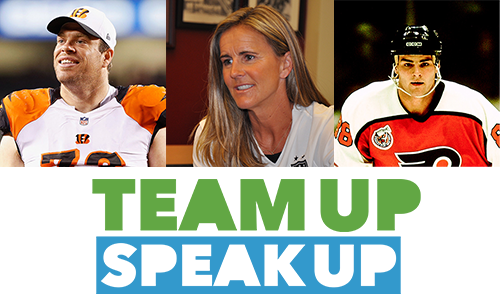 Our Team Up Speak Up Ambassadors include Hall of Famers, Olympians, respected veterans and coaches who have come together to make sure as many athletes as possible hear the Team Up Speak Up Speech from their coach, captain or athletic trainer.
Meet Our Ambassadors